Make it happen, my new, essential motto

Why "make it happen" is gaining momentum in my life.
I practice Linguistic Empathy and I expect you to do the same. Please bear with me if my English is not perfect.
I recently came back from a long week-end in London. I met my younger son there, and together we made a mega surprise to a very dear friend who turned half a century. We simply walked into her party, when the last thing she was expecting was to see us there. We both took the plane, me from Milan, he from Madrid, to give her this beautiful present because we love her so much.
And this is the perfect example of the motto that has become pivotal to my life: make it happen. Make happen what? you might wonder. Well, anything that makes our lives rich, happy and worthy of being lived. Anything that honours what we believe in and makes our passing on this earth a happy one.
But why "make it happen" and not simply "seize the day"??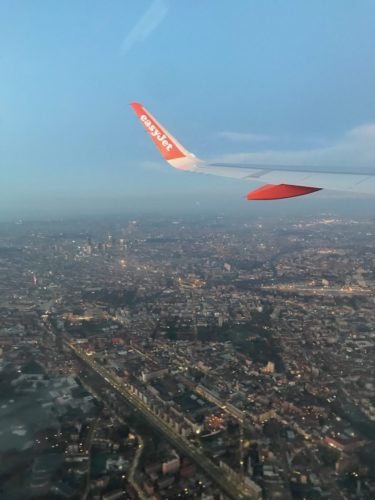 Sure, the right disposition in life is to not miss any occasion it offers us. However, more often than not, we need to actively pursue the creation of happy moments.
It is often not only a matter of means. You need to be a bit crazy, daring and certainly full of energy.
For this trip to London, for instance, I only spent 62 euros for the round trip, but it costed me a lot in terms of energy. I had to get up VERY early for both flights, it took me a long time to recuperate, and I  had to leave my cat alone again.
The joy I got back, though, has motivated for months to come. Not only because I love London, and won't miss a chance to visit it, but also because making people I love happy is one of my deepest and most important values.
It is natural to strive for happiness. Unconsciously or not, we always seek what makes us happy, but there is a slight difference in "making it happen". Make it happen means to proactively work to build moments of joy, it means to be creative, to explore possibilities, starting from the assumption that everything is possible and allowed, never stop in front of obstacles and pull together all of our organization skills. It is not something that always comes naturally. You need to work on it.
There is a last reflection about all this. I have lost so many dear friends in the last few years. People like me and you that would have never thought to leave this world in such a sudden way. At every loss, at every painful goodbye, I tell myself I am no longer in a phase where I can postpone. Enjoy life and actively work to create moments of happiness does not only seem necessary to me, but also a wonderful way to honour them.
Claudia Landini
December 2019
Photos ©ClaudiaLandini