From Milan to Madrid: my transeuropean trip

I recently came back from a long trip. I took my son from Milan to Madrid, by car.
I practice Linguistic Empathy and I expect you to do the same. Please bear with me if my English is not perfect.
It won't be easy to sum up in a single post all this trip from Milan to Madrid has meant to me. Mattia and I left from Milan by car in order to transport all of his stuff. Destination: Madrid, the city where he has decided to live the next phase of his life.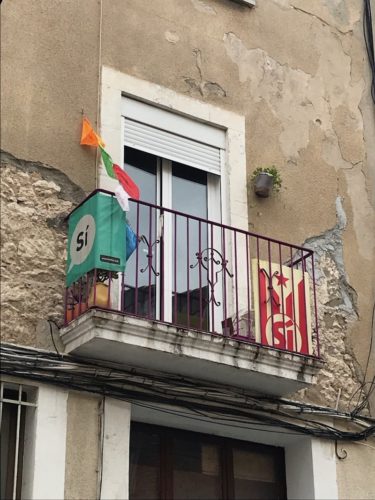 I was a tad worried about the distance: 3,000 kilometres, half of which, on my way back, I had to face on my own. Our car, the beloved Subaru, is very faithful but definitely a bit old.
I am happy to say everything went absolutely well.
On our way to Madrid Mattia and I had a chance to chat, listen to music and laugh. We always laugh a lot in our family. I believe laughing is a wonderful shared act of love.
We stopped in motels on the way. We spent the first night in a Aix-en-Provence, which I already knew. On the second night we stopped by chance at Villafranca del Penèdes, in Catalonia. We were not aware it was the capital of Cava wine, a beautiful surprise. It has been very interesting to breathe the atmosphere of the place. All balconies showed the Catalonia flag or the symbol of independence. Mattia and I, both seasoned expats, were uncertain on which language to use: could we address local people in Spanish, or would it be better to use English?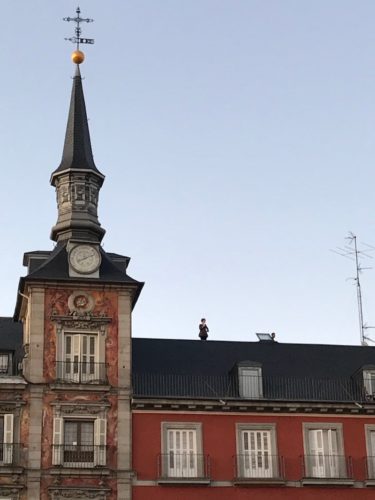 We triumphantly entered Madrid on a Sunday morning. I went to the flat I had rented with HomeAway (I have already invited you on several occasions to stop using Airbnb as long as they rent in the Israeli illegal settlements in Palestine). Mattia went to sign the rent contract and enter his new home.
What an amazing and revitalizing sensation to to get installed in a new place! I find it so refreshing to choose it according to general criteria, and then slowly build a relationship with it.
I am so happy to discover a new city through my son's eyes. Unfortunately, this time I did not have enough time to explore. I was locked for two days in my flat to work, and then spent another two between IKEA and assembling furniture. However, we gave ourselves the privilege of a wonderful dinner with amazing tapas on my last day in Madrid.
I was a bit anxious when I left – I had a very long road ahead – but I quickly relaxed. I enjoy being on my own in my car. I listen to music, something I never have time to do, and have the wonderful sensation of being deeply into my feelings, of touching them with rare clarity. I actually cried (a bit), laughed (a lot), and felt warmth in my heart (a lot a lot) thinking of the beautiful son I had left behind, and all the love I was going towards.
First stop on the way back: Barcelona. I have very dear friends who live there, and that were happy to have me. So happy, as to host me AND Expatclic's birthday party, which was wonderful. As was wonderful to do a "Barcelona express tour" under the expert guidance of my dear friend.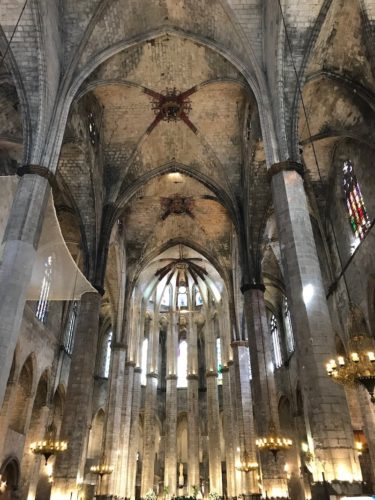 I find it extraordinary when places materialize in front of us while travelling. The Sagrada Familia, despite being full of tourists and partially covered for renovations, was a great emotion. I loved walking in the little streets of the neighbourhood near the harbour, and also to watch a wedding in Catalan in the beautiful church of Santa Maria del Mar.
Next stop was Manosque, in Provence, to sleep at Marie's, the woman whom 15 years ago asked me to create Expatclic without knowing me in person, a proof of trust that I'll never forget. On the way to Manosque I stopped to hug a dear friend who is going through a very difficult time. It was an emotionally very intense moment, which kept me upset all the way to Marie.
There, as you can imagine, we spent the night chatting wildly. We had not seen each other in ten years. But, as it often happens when living abroad, it was as if we had left each other the week before.
The day after, I quit full of love and memories to cherish in the last six hours of travelling.
When I arrived in Italy (I waited to be there to stop and drink a good coffee!) I had a funny feeling, a mixture of satisfaction, melancholy and love.
I was happy that everything had gone smoothly, that I had had the energy to drive, to help Mattia, to organise my meetings and also to work while I was in Madrid.
I was so happy that when I realized that the trip was over, I was seized by a strong melancholy for those moments. I mostly felt love, however. Love for all the people who live in so many places in the world, and are always happy to see me, to open their homes to me. This is the most beautiful gift mobile life has given me. I has made the world my home, and its inhabitants my family.
Claudia Landini
October 2019
Photos ©ClaudiaLandini