A tour in Villach and the meaning of travelling

Every time I travel, a world of reflections opens up.
I practice Linguistic Empathy and I expect you to do the same. Please bear with me if my English is not perfect.
Last week I went to Villach, Austria, to deliver a presentation on portable careers. It had been a while since I last had taken an airplane. Since I came back to Europe, my travelling is mostly by car, or train. Not that I am sorry about it. I love moving around with any possible means. What matters is travelling. However, I particularly love the atmosphere at the airport. There are rituals that satisfy me, and a special feeling in waiting to board and in being all together locked in a metal capsule in the air.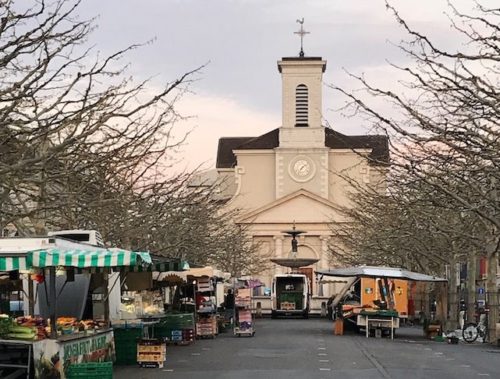 So when I quit home last Wednesday, I was full of joy and energy. My flight was early morning, and I had to take the bus to the airport at an unusual time for me. I like cities when they wake up. They have a vulnerable air. In Carouge, the fruit and vegetable market was about to start. In Bel Air the garbage trucks had almost finished their tour. Buses were full of students and workers, some still sleepy.
I love mingling with humanity. When I was young, I liked to imagine the lives of people I met in my travelling. I don't do that any more, but I feel comfortable in groups, queuing, on transportation.  I feel in my environment, and I am happy for all chances to talk with the people I get in contact with.
Yes, I would say travelling for me is this: getting out of my home and virtual bubble and mixing with people, smell them, look at their colours. It is a privileged moment, and I am grateful for every chance I have of travelling.

I will tell you another time of the beautiful experience in Villach, where I met a group of amazing people and delivered a workshop on portable careers that was welcomed with enthusiasm and participation.
On my way back to Milan, believe it or not, I was almost missing my train. When chatting, one forgets about time, so I boarded my train sweating, stressed and sorry because I could not even give a hug to the dear friend who had warmly welcomed in Villach (she was at the end of the train to stop it while I hurried on board…don't make me think about it!).
I sat beside a lady who initially looked at me with suspicion. Later, though, she entertained me until Udine, her stop, with the story of her life and her contagious passion for cooking. Tatiana is from Russia but she moved to Italy when she was very young. She got married and had a daughter who now lives in Vienna. She told me how food is important for her. She pays attention to the whole process before it arrives to the table: food handling and conservation, treatment, ingredients, and the combination of colours in our dishes. She then shared her dream of having one day the chance to work with this unbridled passion, and showed me pictures of the amazing dishes she creates. We became friends and exchanged numbers…who knows, maybe one day we'll see each other again.
When she got off the train, she left me a meaningful feeling of satisfaction. Travelling means meeting people. It means listening to stories. It means  connecting, being kind and discovering other pieces of world, besides those we see from the train window.
Claudia Landini
April 2019
Photos ©ClaudiaLandini