Women who made me into who I am

Today we celebrate International Women's Day. I want to stop and pay a tribute to the amazing women who made me into who I am.
I practice Linguistic Empathy and I expect you to do the same. Please bear with me if my English is not perfect.
Twenty and something years ago an astrologist made me an astrological chart. I asked him if he could tell me whether I would have another child (my first had already been born) and if it would be a boy or a girl. He sighed, and said that was impossible to say. But he could see that my whole life was marked by a strong presence of men, so it was likely my second child would be a boy (indeed it was 🙂 ).
That reflection of his stayed with me and I often wondered whether it is true that my life has been more marked by men than women. Certainly, in a way, I have had more manly presence in it than a female one. I lost my sister, but still have my two brothers. I married a man and had two boys. Even the dog was a male (well, now I have a female cat…). My son in law to be is a man.
However, if I think back of the human beings that really made me into who I am today; if I take stock of what have been the greatest human and intellectual contacts I have had; if I think of those moments who sank deep into my heart and changed me into what I am today, I only see women.
Let me celebrate our day by paying a humble tribute to them.
First of all, my model, the woman who taught me to be a mother, the brightest example that it is possible to do anything one wants – and doing it all well: Jackie Bhabha. I had the privilege to look after her sons when I lived in London a zillion years ago. I remember that period as one of the most formative for me. Looking at Jackie with her children, I promised myself that if I ever would be a mother, I would use all I learned from her. And I did. So if my sons are so wonderful, I also own it to her 🙂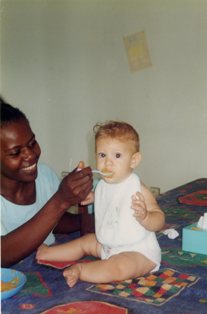 Stephanie was my maid in Brazzaville. With us, she learned how a WC works and how to properly clean a floor. I learned much more from her. I learned what it means to be born a woman in the wrong place; and I understood the meaning of the word "sacrifice" when she handed me a bunch of notes to buy a bed I was selling: she had put together savings for six months so that she and her daughter would finally have a bed to sleep on, instead of a mat on the floor.
I met Maria in Lima, Peru. She was old and sick, but we managed to spend an afternoon together, sipping tea and chatting. Or better, with me listening to her incredible life story, which taught me what it means to live a life according to your values. Maria has left us, but I'll  never forget that afternoon and how it opened my mind and heart.
Jean Calder is a wonderful human being, one of the most intelligent, balanced, lucid woman I have met, with a heart that  embraces justice, love and tenderness. As a young woman, she worked for the Red Cross in Lebanon, where she adopted three refugee Palestinian orphans – all of them with different disabilities. She has told the story of her life in one of the greatest books I have read, Where the road leads. I wish Jean had another life in front of her to continue inspiring the world and giving hope to Palestinians.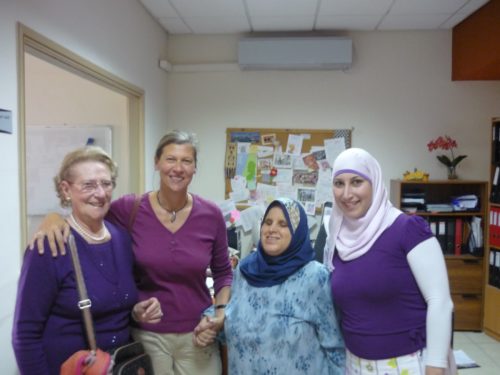 Egidia Beretta is the mother of Vittorio Arrigoni. I sadly got to know her when her son was murdered in Gaza in 2011. I can't describe the empathy I feel for her, and how I admire the way she continues Vittorio's work in favour of Palestine. I cannot even think how a mother hit by such a tragedy could get up every morning, and she tours Italy talking about the reality of Palestine and the brutality of the Israeli occupation. Incessantly.
I do not know Irina Lucidi personally. I followed the terrible facts surrounding the disappearance of her twin daughters in 2011. When Concita De Gregorio collected and published her story in one of the most important books I have ever read, Mi sa che fuori è primavera, I was deeply touched by her. After her ex husband abducted her daughters, Irina created a foundation that helps parents whose children are missing. Again, a wonderfully human way to turn a tragedy into something useful for others.
Because this is what women do: they give birth through all of their lives – and not only to children.
Claudia Landini
March 2019
Photos ©ClaudiaLandini
except the main one ©RajanAdhikari