New Year in Tuscany, like 32 years ago

The gratitude I feel today, while I enjoy my Tuscan home, is immense. I felt it even more with the New Year I just spent here.
I practice Linguistic Empathy and I expect you to do the same. Please bear with me if my English is not perfect.
32 years ago my husband and I, who had recently met, used to go to Tuscany as soon as we could. We were looking for a place to buy and renovate. A slow and patient search, which allowed us to get to know the area and its inhabitants.
In 1987 we spent Christmas in Volterra. We were not sure about what to do at New Year. It was freezing cold and we did not know anyone. We wanted to toast by the sea, that was sure (we love the sea in winter time), so we looked for a nice restaurant in the area of Cecina.
After a lovely dinner, we took a bottle of champagne, and with the two metal cups we had bought for the occasion, we sat into a little wooden boat on the beach of Cecina. At midnight we toasted to our future.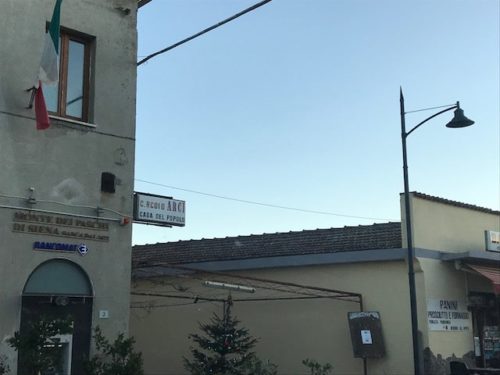 We were full of ideals and dreams. One of these was to find a house in that Tuscan area we had fallen in love with, and then work a lot to get enough money to renovate it, and being able, one day, to fully enjoy it.
On our way back from Cecina, we wanted to party a bit more, and I cannot remember why and how, we passed by a "Arci" (Recreational and Cultural Italian Association) in a small village close to Volterra. The windows were lighted and a cheerful music was playing.
We went in and we found ourselves in a Fellini's movie: a happy and varied humanity was waltzing, everybody laughed, toasted and smoked.
We joined them, and I danced with all of the old men of the area. It was wonderful, and we have always remembered that New Year like one of the most beautiful of our lives.
This year we came for the second time to celebrate Christmas at our Tuscan home, which in the meantime we have found, renovated and finally repeatedly enjoyed. When wondering how we would spend New Year, we did not hesitate: we wanted to go back to Arci!
We knew the association still exists, but had never visited it after then. We inquired, and were told that they did no longer organise a dancing party, but a dinner with bingo, and we were most welcome to join.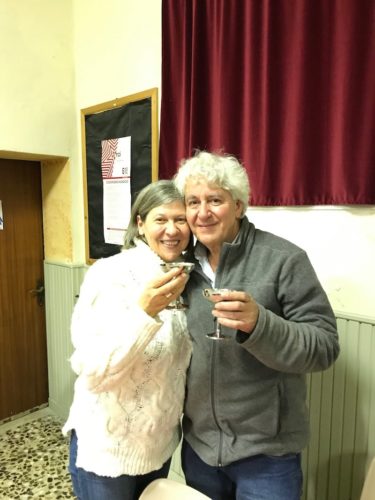 Here we are then, 32 years after, in the same warm and welcoming place and toasting with the same cups we had bought then.
Now, though, we can talk of our home, tell the adventures we had while renovating it from abroad, exchange news on people we know in the area.
It has been a wonderful New Year. We listened to the stories of the old people who have been living here all of their lives, eaten deliciously and enjoyed the warmth of a tight community.
What has shaken me the most, though, has been the sense of happiness and fulfillment, and a huge gratitude for having, today, this wonderful place we call home, where we have been returning for years, and where we are always welcomed with open arms by amazing people.
For us, this is a dream come true. When I am here, not a single day goes by without me feeling overwhelmed but an immense sense of gratitude. I don't forget how absolutely privileged I am: for having lived this love story with a house, a land and its inhabitants; because no one will ever destroy my house or chase me from it; because I have a place in the world that is, and will always be, home.
Claudia Landini
January 2019